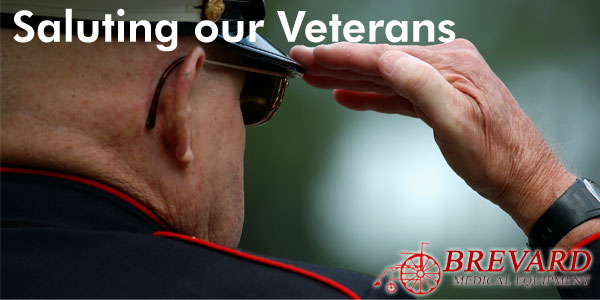 November is about more than just football and food.  It is about remembering and being thankful.  Here at Brevard Medical Equipment, we encourage you to take time to remember all of those that have and are serving in our military and honor them on Veterans Day on November 11.
History of Veterans Day
Veterans Day gets its origins from the end of World War I, the "war to end all wars." An armistice, a temporary cessation of hostilities between the Allied Nations and Germany, went into effect at the eleventh hour of the eleventh day of the eleventh month of the year, making November 11, 1918 the unofficial end of the world
The following year, President Woodrow Wilson proclaimed November 11 as Armistice Day.  The United States Congress passed a resolution urging people nationwide to honor the day on June 4, 1926.  Almost two more years passed before an official act of Congress made November 11 a legal holiday, known then as Armistice Day.  Following the passing of legislation on June 1, 1954, after the urging of veterans service organizations, Armistice Day was officially renamed to Veterans Day in order to expand the day to include honoring all of those that have served, rather than just those that served in WWI.
Local Veterans Day Activities
There are a handful of activities in the Merritt Island area to celebrate Veterans Day.  Don't miss out on the Veterans Day Luncheon at the DoubleTree hotel (2080 N. Atlantic Ave., Cocoa Beach) that starts at 11:30 a.m.  where you can buy a lunch for a veteran while listening to guest speakers.  All proceeds will go towards the support of past and present military members.
Simply saying, "thank you" to a veteran or current member of our armed forces can go a long way. While it may not seem like much in return for them protecting our country, it will mean a lot to them.
Brevard Medical would like to take a moment to thank our veterans.  Thank you all for your dedication and commitment to protecting our freedom!