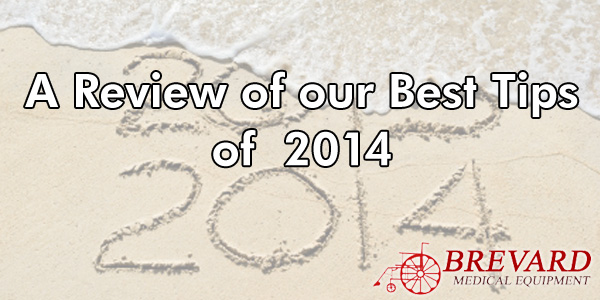 As 2014 is coming to a close, we are thankful for all of our valued customers that keep our business running strong.  As we close out the year we like to take a look back at some of the things that made 2014 a good year before we look at what may make 2015 a great year.
We believe we have been able to deliver some great content and articles to you through our blog in 2014. Here is a rundown of what we considered to be the three best posts, in no particular order, of the year.
While people have surgery year round, it is a little more disappointing to have it done during nice weather like we usually see at the end of the second quarter.  This article discusses some great ways to pass the time while you're laid up that range from fun to productive.
Cruise Carefree: Rent Medical Equipment for Your Vacation
During the fourth quarter, we saw the likes of Halloween, Thanksgiving, Veterans Day, and now the Christmas season. The post that stuck out to us the most was our post on rental equipment while on vacation.  This article discussed some of the rental equipment options that we have available for our customers.
8 Genius Ways to Use Ice Cube Trays
Third quarter saw the end of the summer months, and so we figured we would end it with a bang. In this article, we decided to have a little fun and give you some creative and useful tips on things you can use your ice cube trays for.  These things ranged from supplementing drinks or meals to using them to clean your garbage disposal.
As we get closer to the New Year, we thank you for making 2014 a great year and look forward to serving you in 2015.  If you have any questions, or anything that we can help you with, feel free to call us at 321-453-3370, or visit us on the web at http://www.brevardmedicalequip.com/.  From all of us here at Brevard Medical Equipment, have a safe and happy New Year.  See you next year!