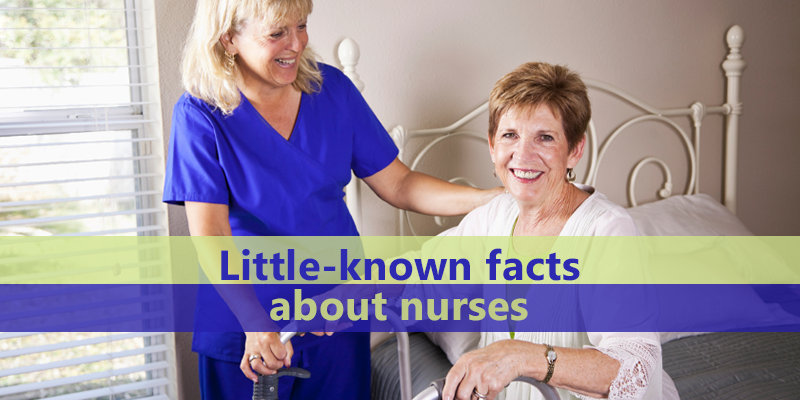 They're the faces of patient care in the health industry, and often ones you see the most while receiving care. And if you play the role of a caretaker for an elderly relative, then you probably have a good idea of how difficult their job is. Since May is National Nursing Month, we thought we would spend some time in today's blog talking about the little-known facts surrounding nurses:
Nurses do a lot of lifting on the job, which might be why 59% of them list back injuries as their greatest workplace fear.
Nurses have their own special superstitions. Supposedly, saying "Quiet" on the job will jinx your shift to be extra difficult!
Another nursing myth is that you're never supposed to mention a patient who ends up on your floor often—just saying their name is a guarantee that they will show up that day!
It's a popular profession—there are nearly 4 million professionally active registered nurses in the United States.
First Lady Mary Todd Lincoln was a volunteer nurse in the Civil War.
The vast majority of nurses in the United States—one in five, as a matter of fact—work in hospitals
Those hospital nurses are the busiest in the warmer months. That's when the majority of emergency room visits happen.
During the Crusades, Pope Urban II created a nursing knighthood. They were known as the Knights Hospitallers.
It's a very old line of work—the first school for nurses was started in India in 250 B.C.E.
The founder of modern nursing was Florence Nightingale. Known as the "Lady with the Lamp," she was immortalized in Henry Wadsworth Longfellow's poem "Santa Filomena."
We tip our hats to these hard-working fellow members of the health industry. If you're a caretaker, we're also here to help. We have a number of helpful hints in our Resource Center, as well as fall prevention products to help your relative age safely in-home.