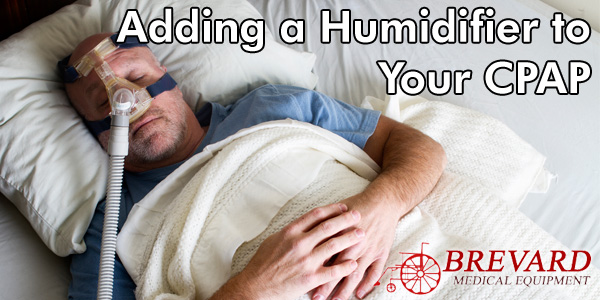 Fall brings a lot of great changes.  The temperature cools down a bit, football season begins, and unfortunately the air dries up a little.  If you use CPAP therapy, this dry air can have an impact on your CPAP machine, which in turn means that the quality of your sleep can be reduced.
Why Add a Humidifier
One of the easiest solutions to combat this problem is to have your machine fitted with a humidifier.  This will add moisture and help ensure your airway remains open, allowing the therapy to work as it is intended.
Humidifier Maintenance
Adding a humidifier will require some additional maintenance on your part, though.  A humidifier relies on water to moisten the air that passes through the water chamber, through the tube and mask and into your airway. That extra equipment needs to be cleaned. Some of those cleaning tasks need to be performed daily, others monthly. Some of these tasks include:
Filling the water chamber every night
The water chamber needs to be filled with distilled water every night. Distilled water will help prevent the buildup of minerals in your water chamber and air tube.
Empty and wash the water chamber every morning
You should empty the water chamber and wash it in warm water while using a mild detergent before rinsing. It should be left to dry throughout the day before you fill the chamber again with distilled water at night.
Once a month you should inspect the water chamber to see if there is any damage to it. If there are any cracks or if the tub becomes cloudy from the buildup minerals, it should be replaced immediately. When cleaning the water tub, use a cleaning solution made up of vinegar and water and thoroughly scrub the tub.
All of us at Brevard Medical Equipment wish you a happy holiday season!  Let us know if we can assist you with anything by going to our website or contacting us at 321-453-3370.