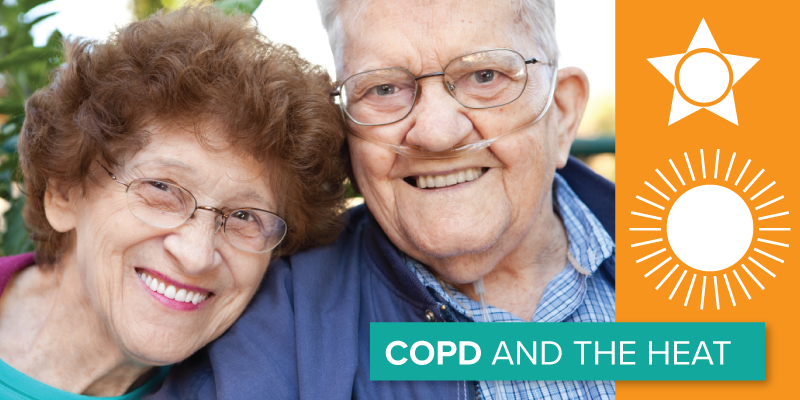 Summertime—the word conjures up sunny days, beaches, vacations and relaxation. But this idyllic time of year also has its downsides—bug bites, thunderstorms and extreme heat. If you live with COPD, you know how hard hot days are! At Brevard Medical Equipment, we encourage you to take advantage of all the benefits of summer while still taking health precautions. That's why we're offering the following tips on how to beat the heat:
Stay inside as much as possible between 10:00 a.m.-2:00 p.m., especially on the days where the heat and the humidity are at their most extreme. If you don't have air conditioning at your house, go someplace that does during this time. Places such as the mall or the public library are good spots to take refuge in. If you're in your golden years, your community may also have a senior center for you to stay at as well.
If you must be outside, concentrate your activities during the morning or evening, when the sun is less intense. Make sure you take plenty of breaks in an air conditioned room.
Increase your water intake. This is important in helping thin the mucous, which helps ease COPD symptoms. You should also avoid sugary and alcoholic drinks, as these can also contribute to dehydration.
Invest in a dehumidifier—in fact, have several throughout the house. Like the old saying goes, "It's not the heat, it's the humidity." While we don't completely agree with that—heat is bad for COPD—relieving those awful symptoms that come with humidity can go a long way to helping you feel better.
Remember, it's not worth it to end up in the hospital because you pushed yourself too hard. The experts at Brevard Medical Equipment can help. We carry portable oxygen concentrators and accessories. We can also come service your oxygen concentrator in an emergency. Stop by our location today to start breathing better today!